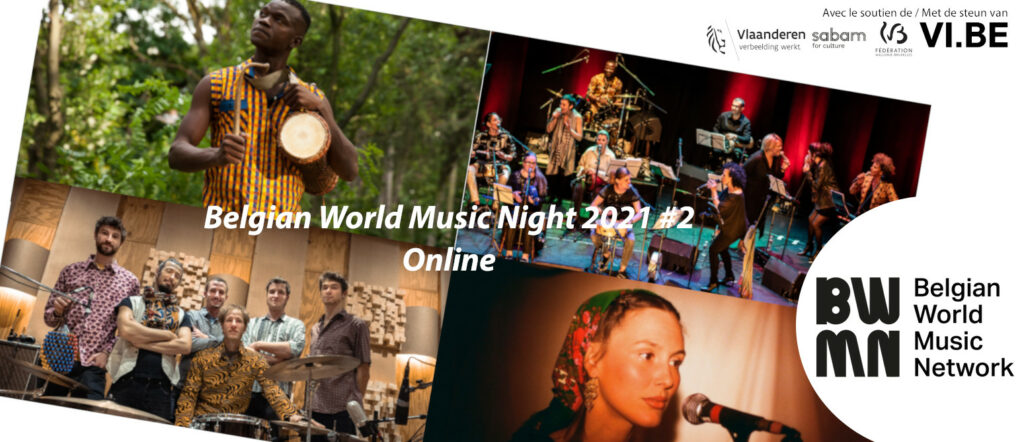 It's high time to present you the selection for our next Belgian World Music Night!
Among the numerous proposals of the longlist, the jury selected 4 bands that we are pleased to present on Sunday 23 May.
Here they are, and we hope you like the line-up as much as we do!
Program :
19:30 – Kaito Winse
20:05 – Ana Diaz
20:40 – Azmari
21:20 – Les Sheiks Shikhats & B'net Chaabi
19:30 – Kaito Winse
Kaito Winse was born into a family of griots from Lankoué, in the Sourou region of northern Burkina Faso. Bearer of a singular and complex poetic universe, he invokes various popular, worshipful or festive rhythms through his instruments. His powerful and bewitching voice recalls the intensity of opera voices and invites you to listen to messages that carry ancestral truths. Kaito masters multiple instruments ranging from singing to the calabash, the kora and the tama. His music is a unique experience in which musical codes are shattered to find themselves at the crossroads of traditional, learned and popular music. His first solo album 'Kaladounia' was released on the Rebel Up label on 2 October 2020. An artist open to the world, Kaito also engages in exploratory projects with artists from the underground scene.
20:05 – Ana Diaz
Ana Diaz is a singer, songwriter and performer. She is the granddaughter of Galician immigrants who fled the Franco dictatorship and was born in Brussels. Surrounded by her aunts (members of the group Ialma), uncles, cousins and grandparents, she has been immersed in Galician folklore since her birth and quickly learned to sing the traditional songs of this region of northwestern Spain.
Her new project, "Maloserá", presents songs with a wide range of sounds and influences. Accompanied by musicians, Ana Diaz composes, writes, but also revisits traditional songs.
20:40 – Azmari
Created in Brussels in 2015, Azmari is a journey between ethiogroove and afrobeat, oriental sounds and frenzied rhythms.
With a deluge of roaring saxes and unleashed afro rhythms, the six musicians of the band create a music that is both energetic and enchanting, which will transport you into a vibrant and transcendental experience.
After numerous concerts all over Europe and in Istanbul and two first EPs, they have just released a first album they have just released their first album distributed by Sdban Ultra.
21:20 – Les Sheiks Shikhats & B'net Chaabi
Fiery melodies, haunting voices, amazing brass instruments and an explosive chaabi groove. The Les Sheikhs Shikhats & B'net Chaabi will stun you with all the power and beauty of a hidden musical and poetic tradition!
Through this project, Laïla Amezian and Laurent Blondiau want to pay tribute to the Ghanayats and the Shikhats, musicians who fought for freedom of expression through art and culture. On the other hand, they rely on the cultural heritage that these singers have popularised throughout Morocco since the end of the 19th century and which is perpetuated here in Belgium through the diaspora.