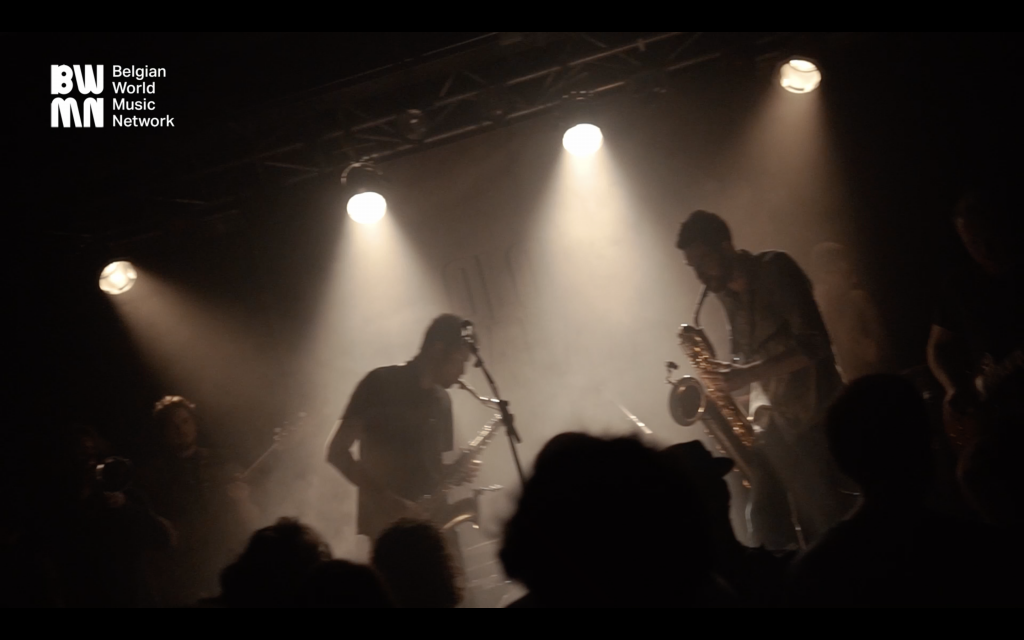 On November 9the, 2020 we organize a full concert evening in the AB Club in Brussels as part of the Belgian World Music Network Meeting.
During the day there are workshops and talks for professionals and semi-professionals from the folk and world music in Palace (across the AB), in the evening there is a concert evening in the AB Club with a fine selection of the rich talent of the Belgian world music scene. The evening is open to everyone and completely free.
At the end of 2019, we asked our members to compile a "longlist" with world music artists with current relevance such as new programs, albums, … that could represent the Belgian world music scene with actual significance. On the basis of this list with fifty artists and groups, an independent jury was given the difficult task of bringing this longlist down to the following final shortlist of 4 groups and 2 DJs:
LAS LLORONAS
Las Lloronas are undoubtedly one of the emerging bands of the Brussels world music scene. With their original mix of world music and slam, Amber in 't Veld (ES / NL), Sura Solomon (BE / USA), Marieke Werner (DE) intrigue from the first moment. Accompanied by accordion, guitar, ukulele, clarinet and vocals, Lloronas blends intimate lyrics with harmonies and melancholic melodies full of fragile power, as they will illustrate on their first album that will be released this autumn.
---
REFUGEES FOR REFUGEES
"First of all, we want to be seen as musicians."
The new winners of the Klara award for world music arose from the meeting between renowned musicians from Syria, Tibet, Pakistan, Iraq, Afghanistan and Belgium and bridge the gap between their different traditions with new music. After two years of discovering each other and sharing each other's music, they released their second album last year built on their exchanges and a genuine friendship. The result is an Indian raga that effortlessly morphs into a Tibetan song, an Arab suite featuring a popular Afghanistin Hazari song or a Buddhist mantra accompanied by a Pakistani and spiritual Sufi song. And in 2019, Persian and Ottoman influences are also emerging.
---
OZFERTI
"Before fully devoting himself to his masked alter ego Ozferti, Florian Doucet worked with the Belgian-Colombian group La Chiva Gantiva (Crammed Discs) and Terrakota (Fazuma). His first EP The Call was released in 2018 and immediately showed a very personal style, mixing jazz and electronics with hip hop and bass music with East African instruments and rhythms. (…) «Hagir Fikir» in collaboration with the Ethiopian diva Eténèsh Wassié is the first track of the long awaited album Solarius Gamma."

Pan-African-Music
---
KOLONEL DJAFAAR
This instrumental 9-piece Afrobeat / Ethio-jazz band with strong roots in Antwerp make it their trademark to create a sultry mix of percussion, brass instruments and attractive melodies that favor the dance legs. The influences are as diverse as groovy: Jungle by night, Fela Kuti, the Budos Band, Mulatu Astatke, …
---
DJ SAHЯA
Sahra, a DJ from Antwerp, mixes everything from dancehall to hiphop, from afrobeat to kuduro or afrohouse.
DJ SAHЯA is infusing the night scene with stirring desert vibes and taking it to startling new heights. Her tunes make you move in ways you either forgot you could, or never knew you would. Turn up if you're in for a soulful night out on the town…
---
CHEB RUNNER
Cheb Runner is like a Techno Caravan, riding through the desert with pumping bass.
A techno caravan that thunders through the desert to the sounds of pumping bass: that's how Brussels prodigy Cheb Runner describes his music. The young – or "cheb" in Arabic – producer throws disco, raï, Arabic polyrhythms, gnawa trance or straightforward deep house in the blender. With self-recorded samples of traditional instruments, he takes you on a trip through time and space, "turning traditional music into dance floor hits"!