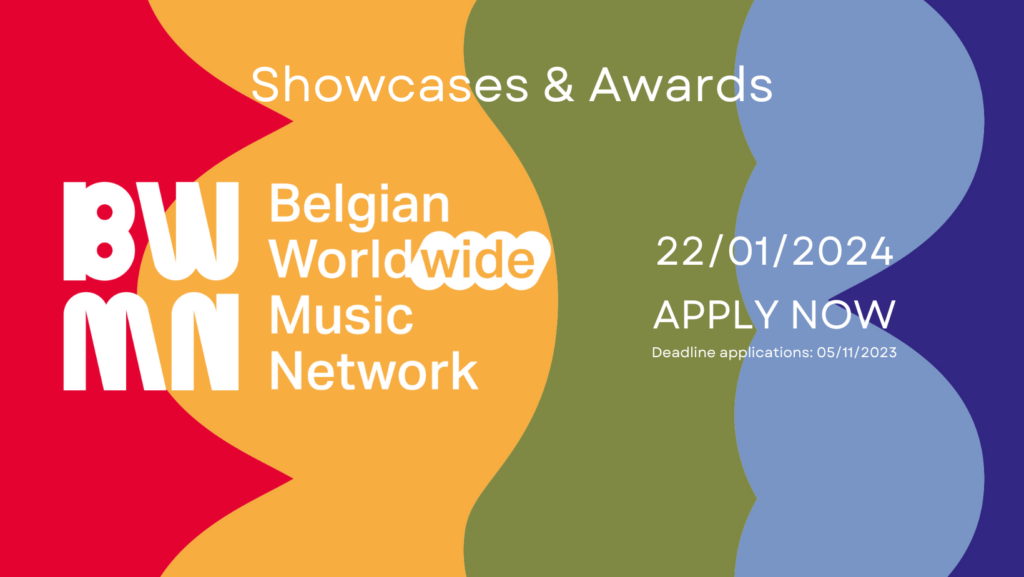 CALL TO OUR MEMBERS
On Monday 22 January 2024, a new edition of the Belgian Worldwide Music Night will take place at the Ancienne Belgique (Brussels). New this year: in addition to the showcase concerts, we will award some prizes to exceptional bands/projects/initiatives from the sector!
In the form you can apply as a band or DJ, as a manager/booker/label you can enter your bands/DJs for the showcases and you can give the jury some tips for the awards!
Important!
You have to be a member of the network to submit proposals (becoming a member is free and easy, more info on our website.
The conditions
Fill in the form with a maximum of 5 proposals for live artists (solo or bands) and a maximum of 2 proposals for DJs. Please fill in the sections as completely as possible.
The proposed bands or DJs must be based in Belgium and offer a current event in 2023-2024 (e.g. new project, album release, …)
Please take into account sufficient diversity (culture, gender, age, language, …)
Be sure to check first if the band/DJ is available to perform on 22 January 2024!
The submitted project is an ongoing project with a long-term perspective, please include a listening link and video with the application.
The selected bands/DJs will play a set, being compensated for their performance. We will also publish a playlist of the longlisted artists on our Spotify profile and our social media channels for promotional purposes.
Deadline
Submit your project until 5 November 2023, 23h59.
Selection procedure
Awards
Based on the suggestions in this form and suggestions from professionals in the scene, a longlist will be compiled, after which jury members from the sector will determine the winners.
Showcases
The submitted proposals are checked whether they meet the above objective criteria. If they do, they are included in the longlist.
The longlist is then delivered to an external jury, consisting of industry professionals, who select 4 groups and 2 DJs for the 2024 showcases.
For a chance to win a showcase, fill in this form!